So, I woke up today and realized that it's been exactly two weeks since Chicago and my second succession of con adventures and that I still have said absolutely nothing about it. Fail.
Epic fail
.
The problem is that I've been putting reports of the weekend off thus far because I really wanted to be as thorough as I was when I did my reports of L.A. Con back in March and...it's dawned on me that I'm simply never going to get a chance to do that. In March I wasn't working, I wasn't in school, I wasn't doing
anything
and I had a lot of time to sit around and ramble about my fangirl exploits and though I still have a fair amount of time to sit around and do nothing, I'm too lazy to do that in-depth thing. Besides that, the sleep that weekend was minimal at best and all of the days sort of ended up running together. I can barely remember what happened and when!
But, you know, you all don't
really
care to hear all the little details about what I did in Chicago unless they have to do with the super fun con guests, do you? Naaaah. You want J2 stories! And pictures! At least, that's what
I
want when I read other con reports, so I'm operating on the assumption that one big, giant pic spam and some key tales will be enough to bring those who are interested up to speed on the amazing time that I had and to quell this weird self-reproach that I have for being
so goddamn lazy.
Besides that, there are about a hundred other people who have thoroughly detailed all of the Q&A panels and the events of the weekend and who have shared pictures and videos. At least I've had all of
my
pictures from the Q&A panels uploaded for your viewing pleasure for quite some time. If you missed those, you can find them all
here
. Enjoy!
And now? On to the pictures that (almost) chronologically tell the story of the weekend of November 14th-16th 2008. Sigh. So tiring but so much fun.
ETA:
If this appears on your flist twice, I apologize! When I posted it originally I somehow put it on a filter and now that I've taken it off, I don't know how that will effect its placement on my friends' friend pages!
As stated in
this post
, my journey started at the Pittsburgh International Airport with Rachel (
notyourstarx0
) after half a day of class and driving for just about 3 1/2 hours on the Pennsylvania Turnpike. It was no walk in the park and it was almost 8:00 p.m. before we caught our flight but we were both in understandably good spirits and took pictures to entertain ourselves:
My BFF, the completely platonic love of my life,
The Rach!
After finally arriving at the Wyndham O'Hare and meeting up with Lizzy and Sarah (
herowlness
and
sarah_p
) in our BAMF suite, there was drinking. Naturally. Since it was incredibly late and we knew we'd have a jam-packed weekend ahead of us and sleep was
obviously
inconsequential. That nonsense was documented the next morning in
this post
should you care to hear the details. Again, there were pictures: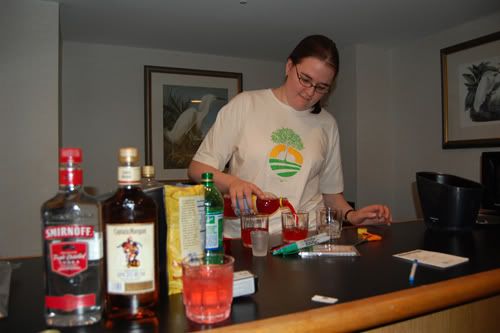 Lizzy, having been the only one to travel by train, supplied the alcohol. And was then dubbed bartender-elect, sportin' her PRESIDENT-ELECT t-shirt :)
I've said it before but I'll say it again. Never drink Hawaiian Punch and vodka unless there are no other options. Whew. That particular cocktail is not one I will voluntarily drink in the future.
Here's one of the girls (minus me!) gathered around the makeshift card table (yes, it's a couch cushion), just for fun. For the record, sobriety was at its peak and it all went downhill from there.
So, I do believe that Friday passed without incident and without anything particularly worthy of talking about. I know that we all woke up at an hour that felt ungodly at the time and that we enjoyed a much-needed early lunch at one of the hotel's restaurants before finally registering and heading to the ballroom in which the con events were underway by noon. Q&A panels with Gabe Tigerman and Richard Speight were a wonderful way to kick off the weekend and they were both
delightful
and hilarious and engaging and Rachel and I very much enjoyed them from our row B seats ;D And then again up close and personal during the first of our many photo ops:
Sarah calls this our "family photo." I love how this one turned out and Gabe is seriously too adorable and I want a mini him to put in my pocket. I have a friend that went to college with him and I was considering name-dropping for the sake of conversation but I chose not to because I thought it might be a little weird. Instead Gabe shook our hands and asked us what are names were and we cuddled on in to him for not one, but two pictures because, as Gabe put it, he was "making a doofy face." This is the second of the two pictures but they were both very similar.
I actually like this picture quite a bit, too. This guy was the shit, forreal. He was wonderfully gracious and, as an added bonus, we had a nice little exchange with him about Purple Nurples. After having discovered the previous night that Maxie's (the hotel bar) was serving Purple Nurples and then learning during Richard's panel that he'd never even had one, I couldn't help but ask...
Me:
You know the bar here is serving Purple Nurples, right? Are you going to have one?
Richard:
No! No, I don't know, actually. What's even
in
a Purple Nurple?
Me:
I think it depends on the who's making it, but I think there's grape juice, Blue Curacao, coconut rum--
Richard:
Ehh, I'm not a fan of coconut rum.
Me:
I don't think there's much even when it's used. You should try it anyway!
Richard:
Well, I'll try anything once! I'll have to have one.
Fun fact that I garnered from this? Richard Speight does not like coconut rum. How did I live for as long as I have without knowing
that
, right?
Oh, and there were autographs:
Gabe laments Andy's death.
And, thank GOD, Richard acknowledges that I'm a girl. This personalization was borne of this exchange:
Richard:
Erin with an 'E?'
Me:
Yep. The 'A' spelling is traditionally reserved for...boys.
Richard:
Oh, right, like Elvis Aaron Presley?
Me:
Yes! Like that. And I'm a girl.
Richard:
[Laughing] I see that!
I also have to share Rachel's autograph from Richard, because it will forever make us both laugh:
I didn't actually hear the conversation that they had, but I do know that Richard made a point of telling Rachel that he, too, would be a Rachel if he'd been born a girl. Fun fact #2!
Anyway, the only other really noteworthy thing about the day was the Chicago deep dish pizza that we ordered for dinner and how I've been quietly lusting after it for two weeks now and how no other pizza will
ever
again be adequate!
Mmm, diggin' in.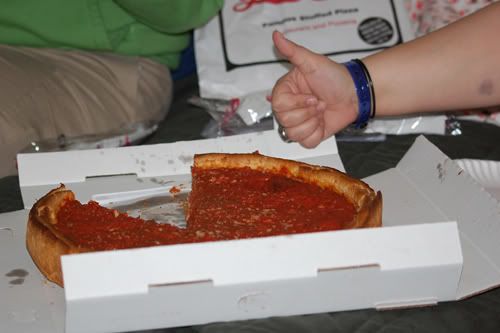 Sarah approves. As did all of our bellies.
Of course, stuffing ourselves silly directly before Steve's concert was probably a bad idea. It made us all groggy and even though Rachel and I had a blast (we were in row A for the concert and Lizzy and Sarah were...elsewehre, so we didn't get to sit with them D:) watching Steve tear it up and laughing uproariously at Steve's drunken aunt in the little VIP section near the stage, I was pretty tired by the time we left. Still, it didn't stop us from swinging by Maxie's for a little while to watch the hilariously bad karaoke that was happening. None of
us
sang, but I may have had I had the chance to drink away my inhibitions. Maybe next year!
So, on to Saturday. Day two in bullets?
● We ordered room service for breakfast and it distracted me from getting a shower as quickly as I should have. I just barely managed to get ready in time and I was unable to blow my hair dry and instead had to throw it up in some kind of messy 'do that is fine for mornings when I go to school but
not
for photo ops. I hate my hair in every picture taken that day!
● I felt (and still feel) like this whole day was spent standing in autograph and photo op lines. Holy crap.
● Rachel and I managed to miss our photo op with Steve
and
our photo op with Chad Lindberg. By long shots. That's $80 I'll never get back but I blame Creation and the crappy schedule of events that lists all the photo op times in one place rather than inserting them in the line-up where they belong. I'm cyber shaking my fist at them as I type this.
● We did manage to make our photo ops with Samantha Smith, Charles Malik Whitfield and Jason Manns, though. So we weren't too heartbroken!
This woman? Is gorgeous. Way, way too pretty and way too young to play a mom of boys over twenty! It just goes to show the careful work put into aging her for her role as Mary when, in real life, she's the mom of a 4-month-old.
The best thing about this guy, other than the fact that he's delectable, is the fact that he looks you in the eye when he speaks to you and has a nice, firm handshake and a way of making you feel like he has all the time in the world. Every photo op was so short, but for some reason I felt like I was tucked under his arm for longer than necessary and I
liked it
, okay? ;)
Sooo...where do I get a Jason for myself? This is one big, adorable teddy bear that I want in my life! Bonus that he can sing his ass off.
● We didn't miss a single autograph, either!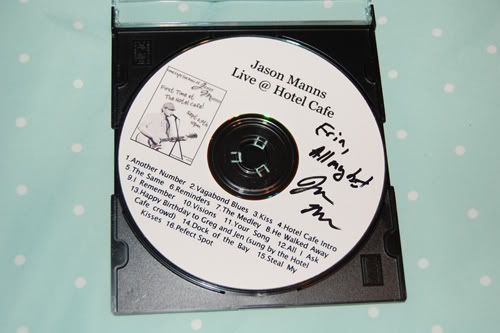 This is an awesome CD, by the way. I've listened to it almost daily in the time that I've had it and it was so worth the $10.
Identical to the autograph of Chad's that I have from L.A. but...personalized!
He sends me all his love. See that? :D
● The highlight of the day? May very well have been having the pleasure of consorting with the famed Plastic!Sam, Plastic!Dean, Plastic!Bobby and Plastic!Castiel of Plastic!Winchester Theatre. Who knew little dolls could be so bitchin'?
Here is Sarah, enjoying the suppositional angelic and demonic Winchester boys sitting on her shoulders.
Lizzy is woman enough for all of the men at once.
Not like Rachel and I weren't going to get in on the action.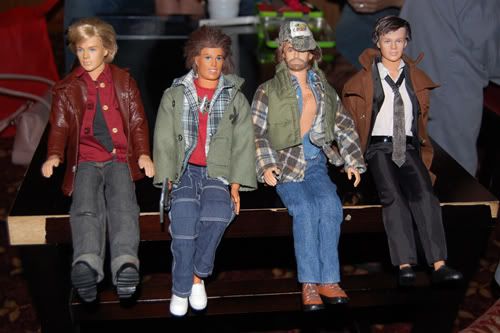 I can't look at this picture and not laugh.
Or this one. What an endorsement.
● Lizzy won 3rd place in the Supernatural Costume Contest as "Dean's douched-up Impala." Along with that
incredible honor
came (I think) a mug, a shot glass and a $50 Creation gift certificate and recognition for the rest of the night. Hilarious and awesome:
Yes, she did make the license plates and yes, that is my trusty iPod!
● Because we missed dinner, we headed to Maxie's for drinks and some grubbage before Jason's concert. While we were there, we shared a Purple Nurple toast and then, because he was at the bar with Gabe, sent Richard a shot. He actually stopped us on our way out and thanked us for the shot and mentioned that "if there's coconut rum, he couldn't taste it" and that was truly awesome of him since it was all in good fun. What's also truly is awesome is that if you look closely, you can see him in the background of our picture. It's appropriate, right, given that Purple Nurples rose to fame in "Tall Tales?"
Also, here are a couple of pictures of the hilarious Supernatural-themed menu items:
● I shouldn't have had that Winchester Mai Thai, as I was again groggy the whole way through Jason's concert (and I had to pee like nobody's business) and even
groggier
by the time we made our way to the dessert party. Little did I know that I'd have to be awake for several more hours and run on almost no sleep the next day. Which brings me to...
Can we
PAUSE HERE
for me to gloat about being the very first person in line for Sunday breakfast? :D :D :D There'd been a lot of questions floating around during the day about whether or not the hotel would be allowing the fans to camp out over night for tables for breakfast with the boys like last year in Chicago or whether it'd work on a first come, first serve basis after a certain hour of the morning like it did in L.A. and by the time that it was after 11:00 p.m. and I still had no answer, I decided to go
prod
an answer out of someone. As I've said before, breakfast in L.A., short-lived as it was, was my absolute favorite part of the weekend and sitting at some table in a back corner was not going to fly with me. No sir.
And because the dessert party was not exactly hoppin', I abandoned the goings on and tracked Adam and Gary down. I asked them the burning question and got the answer I
wasn't
hoping for. Yes, they'd be allowing us to camp out. This was then incentive for me to ask where the official line would be forming because I
had to know
. How'd that go?
Me:
I just need to know so that I line up in the right place and don't spend all night sitting in a hallway for no reason whatsoever.
Gary:
Well, I guess we'll decide where the line starts when there's someone who actually wants to
get
in line.
Me:
What if
I
want to get in line?
Gary:
Now?
Me:
Can I do that?
Gary:
If you want to! You realize it's not even midnight, though...
Me:
I know. But if you're offering to let me be first in line, I'm game. Let's do it.
And that is how it came to pass that I marched back in to the table where my crew was seated, collected my purse and told them I'd be in line. Which felt
great
. In spite of the fact that I ended up being up sitting in line with Sarah until 4:00 in the morning while Lizzy and Rachel slept and then switching places. I managed to sleep from around 4:30-6:30 before getting up and showering and getting dressed and I was
dead tired
but it was so worth it at 8:45 when I was at the front of that gimongous line and got to shuffle on into the room and take the very front seat at the very front table. And for the second time in a row, breakfast is still my favorite thing ever. EVER. It meant Jared and Jensen being so close that I could have reached out and touched them. Not that I did. I didn't need to piss off the bodyguards surrounding the stage. Besides, we got our face time with the boys a bit later for the photo ops. Which, OMG, I love even more than the ones from L.A.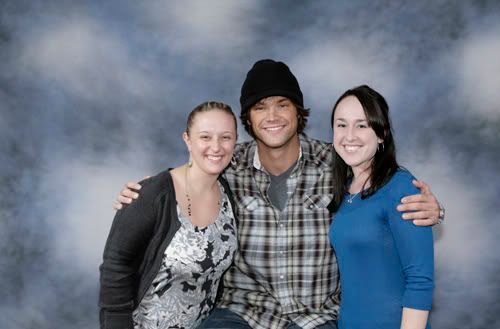 Jared, oh, Jared. Still as sweet as can be and way too chatty for the liking of the volunteers who were trying to keep the photo op lines moving. Rachel actually told him that she liked his hat and he was about to expound at length about why he was wearing it ("Oh, thanks! I woke up this morning and my hair was all [wild hand gestures that pertain to the poofiness of his hair]...and I thought that if I didn't wear a hat--") if it weren't for us getting snapped at to move along by one of his bodyguards :( And then Jared apologized for holding us up, lol. "Sorry! Sorry, ladies, thanks so much for coming!"
Mmm, what a sandwich. The good news is that we don't look quite as short between these two
beasts
as we did in our last picture because we were wearing heels. The other good news is that...they are...hot. NEWSFLASH! :D Also, the conversation that happened (if you can call something so short a conversation) was so similar to the one we had in L.A.:
Rachel:
[As we approach the boys] Hope there's room for two of us.
Jared:
[Making room between Jensen and himself] Always!
Jensen:
[Sliding his arm around me] Always!
Jared:
It's a twofer!
Jared really loves the term "twofer" to describe taking a photo with two people at once and he cracks me up. It also cracks me up that Jensen's nipples were on alert in, like, every single picture. Whoa, boy.
And speaking of Jensen, our picture with him totally trumps every other picture taken over the weekend because would you just
look
at the boy's smile?
It could cure diseases! And it really is all in thanks to Rachel. I still can't talk to him without tripping over my own tongue so she took it upon herself to prompt him to actually smile for our photo by asking, "Are you tired of smiling yet?" To which he responded with a laugh that made my ovaries squirm and, "No, I think I've got a few more left in me." Oh, GOD. &hearts
I guess I might as well go ahead and throw my autographs in here since I'm coming to the end of my incredibly long, disjointed, spastic tale:
Actually, this is Rachel's autograph but it's too good not to share. She actually told Jensen, "Feel free to deface Jared," whether or not she thought that he would...and he did. He held the damn autograph line up for a good two minutes while he scribbled all over Rachel's picture with a great deal of concentration and the occasional explanation ("Jared wears those cuff bracelets now.") and Rachel had to stand there in front of Jared and tell him that he couldn't sign her picture yet because Jensen was too busy drawing all over him. Naturally, Jared did retaliate and when Jensen finally moved on to signing my picture, I told him that I was sorry he had no one to deface, but he conceded to that being just fine. "I'm definitely not going to deface
myself!
"
So, my pictures aren't as hilarious as Rachel's, but the guys look hot as hell, and that's what matters:
And...that is about it. I could ramble on for a while more about going to dinner at Harry Carey's later that evening and the sheer volume of food I ordered after not eating all day (too nervous at breakfast, too busy afterwards!) or about Sarah eating her leftover spaghetti with her fingers at some odd hour of the night or the snow that started coming down that night and continued into the next day but...my brain is fried and my fingers kind of hurt. So I am simply going to bid you all adieu, thank you for looking, and commend you if you made it all the way to the end!
ETA because I was told to:
Sarah. Jensen. Rolling in a vat of bacon grease. Tab A, slot B.
Current Mood:
productive
Current Music: "Ballad of Denim Boy and Grey Girl," Steve Carlson